The American Institute of Aeronautics and Astronautics (AIAA) has announced "Composite Materials for Aircraft Structures – Third Edition" book of the month for January 2023 (and previously April 2021)! The editors of the Third Edition, Alan A. Baker and Murray L. Scott, ACS Australia Chairman, were supported by a large team of experts in the field, all of whom contributed their extensive aircraft design and composite materials knowledge to the book, including current ACS-A team members Paul Falzon, Rodney Thomson, Rowan Paton and K H Leong. Since the book was first published, thousands of copies have been sold world-wide and it has even been translated into other languages.
"This book covers almost every technical aspect of composite aircraft structures, including raw materials, design, analysis, manufacture, assembly, and maintenance. It was first published as part of the AIAA Education Series 35 years ago, and it continues to serve very effectively to provide both university students and aerospace engineers with an introductory and reference book on composite structures. Like the thousands before them, I look forward to seeing many new readers also benefitting from this remarkable book." – Murray L. Scott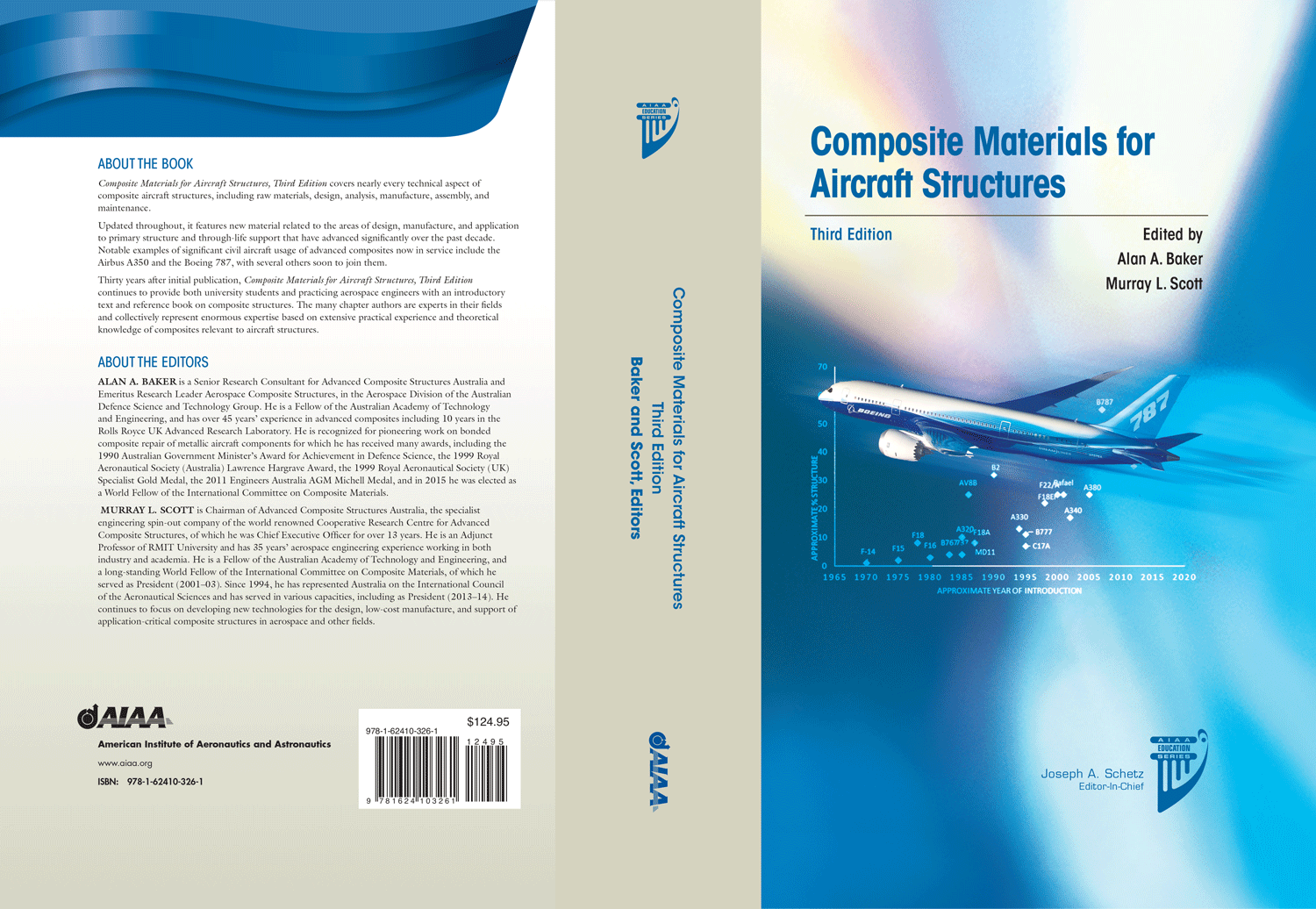 Contributors from today's ACS Australia team include:
As an added bonus for being book of the month, it is on sale now!
Follow this link to purchase the hard cover book: https://arc.aiaa.org/doi/book/10.2514/4.103261?
Publication Date: September 30, 2016 / ISBN (print): 978-1-62410-326-1
Table of Contents
Contributors
Preface
Acronyms
01 – Introduction and Overview
02 – Basic Principles of Fiber Composite Materials
03 – Fibers for Polymer Matrix Composites
04 – Polymeric Matrix Materials
05 – Component Form and Manufacture
06 – Quality Assurance
07 – Structural Analysis
08 – Mechanical Property Measurement
09 – Mechanical Properties of Composite Systems
10 – Joining of Composite Structures
11 – Design Issues
12 – Airworthiness Considerations for Airframe Structures
13 – Through-Life Damage Detection and Monitoring of Composite Structures
14 – Repair Technology
15 – Three-Dimensional (3D) Fiber-Reinforced Composites
Index
Supporting Materials
ACS Australia is world renowned in the field of composite materials with over 30 years' experience. We continue to work on aircraft structural design & analysis and manufacture of composite components, as well as serve a wide range of other industries – connect with us today!